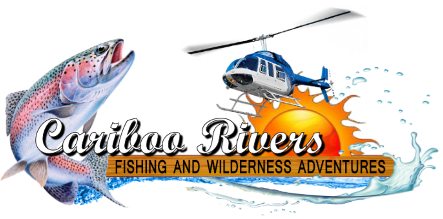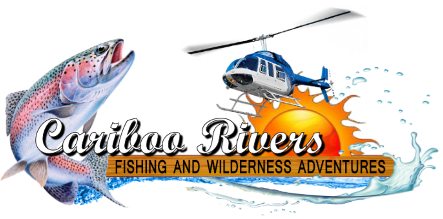 FOR RESERVATIONS AND INFORMATION CONTACT:
Cariboo Rivers Fishing and Wilderness Adventures
820 Baker Drive
Quesnel, B.C., Canada, V2J 7H4
Cell: 250-991-8114
Website: https://caribooriverfishing.com/
E-Mail Us: Click Here
Mitchell River Guided Fishing Packages
This is a premier trip - early booking recommended.
The Mitchell River is located in the pristine Cariboo Mountains Wilderness Park south east of Quesnel in central British Columbia. If you enjoy angling for large rainbow trout in a crystal clear mountain river, this is for you! Experience Mother Nature at her best: see spectacular glacier capped mountains, wildlife, old growth cedar trees, and so much more. Fishing on the Mitchell River is catch and release only.

The fishing the first week or so of July using minnow imitations can be exciting as the salmon fry are leaving the river, heading into Quesnel Lake. The resident river populations of trout feed on dry flies all summer long usually the smaller trout are the most aggressive feeders at this time. We usually catch a few big trout each day for a good mix. Early September the Sockeye Salmon start returning to the Mitchell River and are incredibly beautiful to see as you jet boat to the fishing holes. The large Rainbow trout come out of Quesnel Lake following the migrating salmon to their spawning beds, waiting to feed on any salmon eggs that escape. Egg patterns work well and the takes from the trout are aggressive.

As time moves on in the spawning cycle and the salmon begin to die off bits of flesh begin to flow through the river system. The flesh pattern flies that we tie are very effective as they entice already well fed trout to eat again. You will catch large bull trout as well as big rainbow trout. You can see 4 different color variations on the rainbows in this river, which in it self is unique. The large spots and size of the fish remind many people of fishing in Alaska. Many guests rate this river in the top 5 that they have fished any where in the world. Come and enjoy this experience for your self. You will want to bring a good camera!

The Mitchell River is open from July 1st to September 30th.

The fish in this river system are between 12 and 40 inches long, and range from 3 to 20 lbs. We usually jet boat up the river in the morning and wade and float the boat from run to run as we work our way back down the river.

Lake fishing on Quesnel Lake, the deepest fjord lake in the world, for large trophy class Rainbow Trout is included as part of this package.

We fish all river and creek mouths as they enter Quesnel Lake for more exciting fishing action, as they also have spawning salmon creating that feeding environment for hungry rainbow trout. Bring your camera!